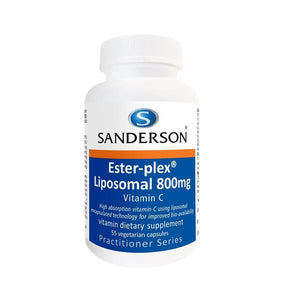 Sanderson Ester-plex® Liposomal 800mg Vitamin C is a potent antioxidant that supports cellular health and a healthy immune system. Ester-plex® Liposomal 800mg uses a proprietary method to create a liposomal matrix that combines a water soluble and fat soluble fraction which significantly improves the absorption and bioavailability of the vitamin C component for maximum benefit. Ester-plex® Liposomal 800mg is gentle on the stomach.
Vitamin C is an essential nutrient that is not made by the body and must be consumed daily, usually from food, like fresh fruit and vegetables, or nutritional supplements. As well as being an immune support, Vitamin C supports healthy skin, injury recovery and may be beneficial at times of stress.
Dosage
Adults: 1-2 capsules daily or as professionally prescribed.
If symptoms persist see your healthcare professional.
Ingredients
Each capsule contains:
| | |
| --- | --- |
| Vitamin C (Ascorbic Acid) | 800mg |
(in a proprietary liposome complex comprising palmitic acid, oleic acid, sundlower lecithin, alcohol)
General Safety Information
Always read the label. Use only as directed.
Nutritional supplements may only be of assistance if the dietary intake is inadequate.
Supplements should not be used to replace a healthy balanced diet and adequate physical exercise.
Keep all medications and supplements out of reach of children.
If symptoms persist see your healthcare professional.