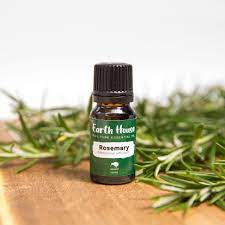 Stimulates memory. Warming, strengthening and toning  both on the body and the mind. Anti-fungal, antibacterial. Useful as a disinfectant. Good for colds, bronchitis, headaches. Excellent for hair and scalp problems.
Rosemary Rosmarinus officinalis
Growth  |  Calming  |  Memory
Method of Extraction: Steam distilled from the leaves.
Country of Origin: Tunisia 
10ml
Amongst many other uses, Rosemary oil can be used to stimulate hair growth, blood flow and brain function. Anti-inflammatory, anti-microbial & astringent.
Avoid use in pregnancy, or if you suffer from epilepsy or high blood pressure.
Essential oils are powerful; heavy research or consultation with a qualified professional is recommended, especially if you are pregnant, on medication, suffer from high blood pressure, epilepsy or hypersensitive skin. Keep out of reach of children & pets. Do not consume or take internally.