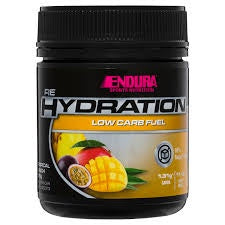 The Endura Rehydration Low Carb Fuel is a refreshing low carb rehydration formula to replace essential electrolytes lost during sweat and physical activity, support exercise performance, assist in the prevention of muscular cramps and spasms and relieve aches and pain. 
This formula is great for those who are calorie-conscious, on specific sports conditioning programs, or just seeking daily hydration.
The Rehydration Low Carb Fuel Powder features:
Less than 1.3 grams of carbohydrates

 per dose

Electrolytes 

- sodium, potassium, calcium and magnesium - to replace those lost in sweat to maintain active hydration

NO artificial flavours, colours or preservatives

Gluten-, wheat-, dairy-, lactose-, egg-, nut- and yeast-free ingredients.
Not only does the extended Endura Rehydration Fuel range allow hydration customisation; athletes can now separate their hydration and energy (carbohydrate) sources such as Endura Rehydration Low Carb Fuel with Endura Sports Energy Gels.
DIRECTIONS
Take 1 level scoop in 350 - 600 mL of water;
For exercise rehydration: Before, during or after exercise as required.
For the relief of muscular cramps and spasms: Twice daily.
For everyday hydration and physical work demands: Once daily or as required. Take up to four doses per day, or take as directed by a healthcare professional.
Ingredients : magnesium amino acid chelate (Meta Mag® - Magnesium diglycinate) - 1.6 g (equiv. elemental magnesium - 163 mg), sodium chloride- 446 mg (equiv. elemental sodium - 176 mg), calcium amino acid chelate- 210 mg (equiv. elemental calcium - 42 mg), potassium citrate- 185 mg (equiv. elemental potassium - 67 mg)
Contains Caffeine : No
Gluten Free : Yes
Recommended For : After Exercise