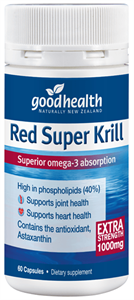 Good Health Red Super Krill Extra Strength 1000 mg, provides a superior omega 3 absorption. Krill oil's EPA & DHA are in the form of phospholipids that are nine times stronger than standard fish oil. Krill are found in the pristine waters of the Antarctic Ocean and are sourced from an abundant and sustainable resource, which is tightly regulated by the Commission for the Conservation of Antarctic Marine Living Resources (CCAMLR) and awarded Marine Stewardship Council (MSC) certification.
Good Health Red Super Krill Oil is naturally rich in Astaxanthin, which provides a potent level of antioxidant skin protection and promotes energy and general wellbeing maintenance. It is particularly good for supporting learning & concentration, joint and cardiovascular support, but can also be used to maintain hormonal health.
Recommended for
Brain health - mental clarity & focus
General joint health and mobility support
Heart health and healthy cholesterol levels
Pre-menstrual and hormonal health
ngredients: (per 1000mg capsule)
Krill oil (Euphausia superba)
1000mg
Total Phospholipids
400mg
EPA (Eicosapentaenoic acid
120mg
DHA (Docosahexaenoic acid)
65mg
Astaxanthin
100mcg
Formulated without
Gluten, egg, dairy, soy, wheat, artificial flavours, artificial sweeteners or artificial colours.
Dosage
Take 1 - 2 capsules daily with food or as professionally advised.
Contra-indications
People allergic to seafood should avoid taking or use with caution. High doses of Omega 3 may increase risk of bleeding with anticoagulant medications
Good Health Red Super Krill 1000 is an extra strength formula that provides the highly absorbable phospholipid form of Omega 3 fatty acids. Krill oil is naturally rich in Astaxanthin which provides potent antioxidant protection and promotes optimal health and wellbeing. It is particularly good for supporting learning & concentration and Pre-menstrual health, cardiovascular & joint health.