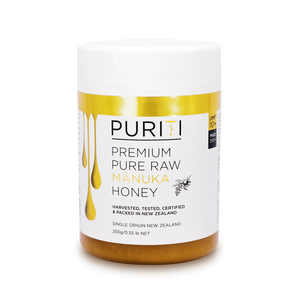 Genuine New Zealand Manuka Honey independently certified both UMF 10+ & MGO 300+. PURITI is produced and tested to higher more stringent quality and purity standards.
Rigorously tested to quantifiably and measurably exceed the Ministry of Primary Industry (MPI) Manuka Honey Science Definition.
New Zealand has a pristine agricultural environment and to further confirm this all PURITI honey is tested and verified Glyphosate free.
PURITI Manuka Honey is GM Free.
PURITI Manuka Honey has a uniquely rich complex flavour and a distinctly smooth, creamy, velvety texture.
PURITI Manuka Honey products are packaged at one source only and the Jar, Lid & Label are proprietary designs and combined provide at least 11 separate anti-counterfeit and consumer security features. 
Methylglyoxal (MGO) – Is scientifically proven to be a key natural compound in Manuka honey, however, MGO is not an indication of Manuka Honey quality or purity and should be seen in context combined with the MPI definition and UMF independent quality mark.