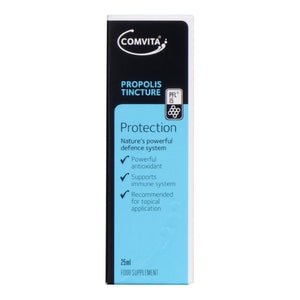 Comvita Propolis Tincture PFL15 is made from the highest quality Propolis in an alcohol base delivering a powerful antioxidant to be applied directly to your skin.
Propolis is a wonderful natural protective system designed to support well-being.
Our standard strength Propolis Tincture PFL15 delivers 15mg of active Propolis flavonoids per daily dose. Natures Powerful Defence System,
Powerful Antioxidant
Guaranteed Flavonoid Levels
Each 1.25ml contains: Ethanol (bulking agent), Propolis Tincture (equivalent to 111mg pure Propolis), Water.
Directions
Precautions
Propolis may cause severe allergic reactions. 
Pregnant or lactating women consult your healthcare practitioner before use.
Always read the label. Use only as directed.