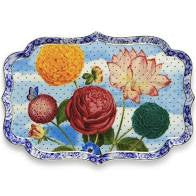 This bright tray, with floral motifs, is part of the Royal collection. Historic emblems, vintage flowers, hand-painted blossoms and refined golden details make Royal a stylish design, fit for your own palace. Multi-colour. Please note, this item is not suitable for dishwasher or microwave use.
Happy Products for Happy People
For 10 years Pip Studio has been designing 'Happy Products for Happy People' from their studio in Amsterdam. Quality lifestyle products made with an eye for the tiniest details and uniquely created designs.
The Royal tableware collection features unique shapes and delicate porcelain. The pieces include elements from historic tableware - vintage flowers, blue painted blossoms, branches and golden details - in keeping with the shapes and use of the items. Modern print techniques have been used to bring together old and new for this collection.