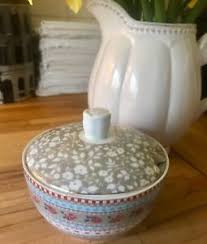 Pip Studio | Pip Floral | Sugar Bowl Khaki
PIP is a Dutch designer who is inspired by everyday occurrences that seem quite ordinary but when scrutinised more closely are, exceptionally beautiful. She often uses a mix and match concept with layered patterns and has a sharp eye for tiny details and special finishing touches combined with a subtle colour pallet.
PIP designs products she would like to buy if she could find them, which is usually not the case. Her vision on her designs is actually quite simple, practical and sincere: "If I make a product, it has to be so good that I would like to keep it myself or if I give it to a friend or member of the family it must bring a little bit of joy and happiness. Without this emotion, it cannot be a true PIP product".
All PIP's products are designed to meet her motto "Happy products for Happy People".