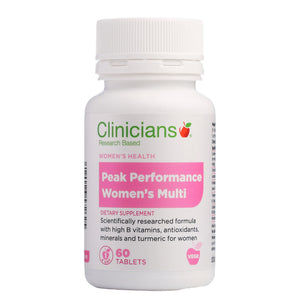 Clinicians PeakPerformance Women's Multi Vitamin provides an everyday boost of essential nutrients for optimal peak performance for women of all ages. With high dose B-group vitamins to help to lift energy and balance life's stresses and antioxidants for healthy ageing and immune support.
All nutrients are included at levels statistically shown to have health benefits. The PeakPerformance Multi contains Selenium, Iodine, and Zinc, all known to be deficient in NZ soils. It also contains Vitamin D (Vitamin D deficiency is common in NZ).
Each Tablet Provides:

Curcuma longa (turmeric) ext. equiv. to dry root 200mg
  (standardised to curcuminoids 40mg)
Citrus bioflavanoids 150mg
Thiamine hydrochloride (vitamin B1 50mg) 56mg
Riboflavin (vitamin B2) 50mg
Nicotinamide (vitamin B3) 50mg
Calcium pantothenate (vitamin B5 50mg) 55mg
Pyridoxine hydrochloride (vitamin B6 50mg) 61mg
Cyancobalamin (vitamin B12) 50mcg
Ascorbic acid (vitamin C) 150mg
Cholecalciferol (vitamin D3 600iu) 15mcg
Folic acid 300mcg
Biotin 150mcg
Potassium iodide (iodide 150mcg) 196mcg
Zinc amino acid chelate (zinc 10mg) 50mg
L-Selenomethionine (selenium 26mcg) 5.2mg

Also Contains: Tabletting aids. 

No Added: Gluten, wheat, dairy, yeast, artificial colours, artificial sweeteners, flavours or preservatives.
Directions
Adults: 
Take 1 tablet daily.
Precautions
PeakPerformance Women's' Multi is considered safe and well tolerated at the dose recommended. 
Exercise caution in individuals with gallbladder dysfunction as curcumin may cause gallbladder contractions similar to those experienced with a fatty meal.
Pregnancy and Breastfeeding: Clinicians PeakPerformance Women's' Multi may be taken at these times.