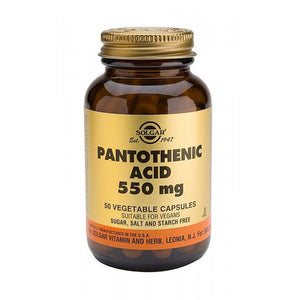 Solgar Pantothenic Acid  (Vitamin B5) provides 550 mg capsules.  B5 is a water soluble vitamin part of the family of 8 B-Vitamins and therefore we need ensure we get a supply every day.  Pantothenic acid has a long list of biological functions but often referred to as the "anti-stress" vitamin and important for stress management as it is known to help support the adrenals, the nervous system  and can be beneficial for those who are burnout or exhausted.     
It is vital in the role of energy and metabolism, for healthy skin and support for those with allergies
Each Vegetable Capsule Provides:

Pantothenic Acid (d-Ca panthothenate) 550mg


Also contains: Hydroxypropylmethyl cellulose, silicon dioxide, magnesium stearate.
Directions
As a food supplement for adults, take one (1) Vegetable Capsule daily, preferably at mealtime, or as directed by a healthcare practitioner.