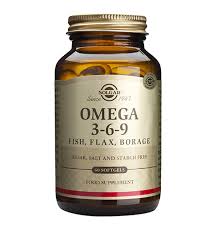 Solgar Omega 3-6-9 soft gels 
provides a blend of three premium high quality oils, Fish, Flax and Borage which contribute to essential fatty acids  in a balanced ratio necessary for optimal health and wellbeing.  We need to get these "good" oils from our diet, but it can be difficult to get the right balance.   
With equal amounts of pure fish oil, cold pressed flaxseed oil and borage oil this is a perfect broad spectrum source of these vital fats. Omega 3-6-9 supports skin, joint health, hormonal balance, eyesight and mood balance.   Molecular distillation ensures heavy metals and contaminants are removed.
Each Three Softgels Provide:

Fish Oil (from anchovy, mackerel and sardines) 1300mg
Flaxseed Oil 1300mg
Borage Oil 1300mg

Alpha Linolenic acid  585mg
Eicosapentaenoic Acid (EPA) 344mg
Docosahexaenoic Acid (DHA) 221mg
Linoleic Acid 598mg
Gamma Linolenic Acid 247mg

Oleic Acid 325mg



Also contains:

 Gelatin, vegetable glycerin, mixed tocopherols.
Directions
As a food supplement for adults, take three (3) softgels daily, preferably at mealtime, or as directed by a healthcare practitioner.
Precautions
Caution with warfarin. Avoid use with epilepsy due to GLA content.
Always read the label and use as directed. Vitamins are supplementary to a balanced diet. If symptoms persist consult your healthcare professional.