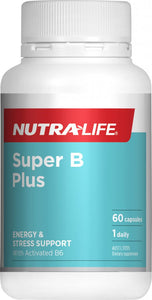 Nutra-Life Super B PLUS contains activated Vitamin B6 (the metabolically active form of B6 and an important coenzyme involved in macronutrient metabolism, healthy cardiovascular function and neurotransmitter formation), Folic acid, Vitamin B12 and Choline. These key nutrients support methylation, a process important for cardiovascular function, DNA replication and cell division. The addition of Vitamin B5 supports adrenal function during times of stress.
When taken as directed, this formula may be beneficial for:
Energy production and support during times of stress
Healthy nervous system function
Healthy cardiovascular function
DOSAGE
Recommended Adult Dosage: Take 1 capsule daily with food, or as directed by your healthcare professional.
INGREDIENTS
Each capsule provides:
Thiamine nitrate 50mg,
Equiv. Thiamine (Vit B1) 40.5mg
Riboflavin (Vit B2) 20mg
Nicotinamide 50mg
Calcium pantothenate 49.11mg,
Equiv. Pantothenic acid (Vit B5) 45mg
Folic acid 300μg
Pyridoxal 5-phosphate monohydrate 6mg,
Equiv. Pyridoxine (Vit B6) 3.83mg
Cyanocobalamin (Vit B12) 50μg
Inositol 50mg
Taurine 40mg
Choline bitartrate 100mg,
Equiv. Choline 41.1mg
Biotin 150μg
Encapsulating aids
FORMULATED WITHOUT
Gluten, wheat, dairy products, egg, soy, artificial colours, artificial flavours or artificial sweeteners.