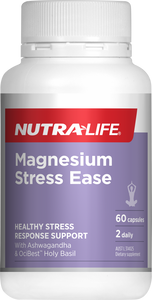 A unique formula combining Magnesium amino acid chelate with herbs Ashwagandha, OciBest™ Holy Basil and Rehmannia plus B Vitamins to support a healthy stress response during times of stress.
Contains Magnesium amino acid chelate – a well absorbed, organic form of Magnesium for higher absorption*
Beneficial for:
Supporting a healthy stress response in the body by supporting adrenal gland function and energy levels
Supporting a healthy nervous system, immune system and muscle function
Assisting the body to cope with environmental stress
* when compared to Magnesium oxide
DOSAGE
Recommended Adult Dosage: Take 2 capsules daily, or as directed by your healthcare professional.
INGREDIENTS
Each vege capsule provides:
Magnesium amino acid chelate 500mg
Equiv. Magnesium 100mg
Calcium pantothenate 16.6mg
Equiv. Pantothenic acid (Vitamin B5) 15mg
Pyridoxine hydrochloride 12.2mg
Equiv. Pyridoxine (Vitamin B6) 10mg
OciBest™ Ocimum tenuiflorum (Holy Basil) whole plant dry extract 100mg
Equiv. Ocimum tenuiflorum whole plant dry 1g
Withania somnifera (Ashwagandha) root dry extract 60mg
Equiv. Withania somnifera root dry 1.5g
Rehmannia glutinosa root dry extract 100mg
Equiv. Rehmannia glutinosa root dry 1g
Encapsulating aids.
FORMULATED WITHOUT
Gluten, wheat, animal products, dairy products, egg, soy, artificial colours, artificial flavours, artificial sweeteners or preservatives.
Suitable for vegetarians and vegans.
Always read the label. Use only as directed. Vitamin & mineral supplements should not replace a balanced diet.