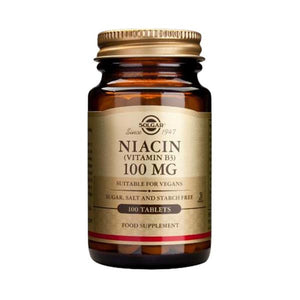 Solgar Niacin 100mg - Niacin (Vitamin B3)  100 mg tablets.  Niacin is part is a water soluble vitamin part of the family of 8 B-Vitamins, therefore we need ensure we get a supply every day.  
Vitamin B3 is required for energy production, as it is involved in the metabolism of carbohydrates, fats and proteins into energy.   
It supports cardiovascular health, cholesterol management, and helps promote increased blood flow by dilating blood vessels. 
 It has a role in the production of certain hormones in the adrenal gland and detoxification process.  Important for the health of the nervous system and stress management.
Each tablet provides:
 
% EC RDA*
Bulking Agents: dicalcium phosphate,
 
 

microcrystalline cellulose

 
 
Niacin (

vitamin B3, as nicotinic acid

)
100 mg NE
625
Anti-caking Agents: vegetable stearic acid, vegetable
 
 

magnesium stearate

 
 
Cellulose Gum
 
 
*EC RDA = EC Recommended Daily Allowance
FREE OF: Gluten, Wheat, Dairy, Soy, Yeast, Preservatives, Sweeteners, Artificial Flavours or Colours
Directions
 As a food supplement for adults, one (1) tablet daily, with meals, or as directed by a healthcare practitioner. Do not exceed directions for use.
Precautions
Not intended for use by pregnant or nursing women. If you are taking any medications or have any medical condition, please consult your healthcare practitioner before taking this product. Use of this product may cause skin flushing, burning, itching or rash.