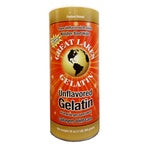 Great Lakes Unflavoured Gelatin Collagen Joint Care is the purified protein derived by the selective hydrolysis of collagen from the skin, the connective tissue and/or bones of animals.

Great Lakes Gelatin provides you with the highest types of pure unflavored edible gelatins. This consumer package represents a special grade of gelatin that meets the specifications set forth by the U.S. Pharmacopeia, regulated by National Formulary. All grades of gelatin are prepared under the most rigid sanitary conditions.
Beef Gelatin
Unflavored
Kosher
Gelatin dietary supplement
Collagen joint care
Pure protein
Directions
Room temperature liquids:
Pour one tablespoon into a glass of your favorite juice or drink. Allow to soak for one minute while stirring, then drink.
Hot liquids:
Add on tablespoon to cold liquid for one minute, add HOT liquid and stir until dissolved
Cold or hot cereals:
Add one tablespoon to a bowl of hot or cold cereal and mix completely.
(one tablespoon gels one pint of liquid.)