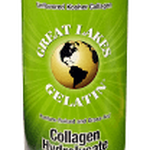 Our collagen, made of ONE simple ingredient is a dietary supplement with a beneficial combination of amino acids. At Great Lakes Gelatin Company, we believe that a healthy lifestyle and a balanced diet including collagen, is the cornerstone to a life well-lived. Collagen is nearly tasteless, colorless and odorless, and it is easily digested. It will not congeal in cold liquids making it a perfect addition to cold and hot beverages, smoothies or recipes. Just mix in and enjoy!
Ingredients: Bovine Collagen Hydrolysate
Collagen Types 1 & 3
Grass-Fed & Pasture-Raised, Kosher, Paleo-Friendly, Keto-Certified
How to Use
Using a tablespoon or scoop, add 2 tablespoons of Collagen Hydrolysate and pour slowly into your beverage of choice.
Stir until dissolved. Hot liquids will dissolve the collagen more quickly, while colder liquids will take a bit longer.
Once the collagen is dissolved, enjoy your collagen-packed drink!
Many customers enjoy adding collagen to:
Coffee
Tea
Smoothies
Oatmeal
Yogurt
Orange juice
Water (with or without a lemon slice)
Soup
  Gelatin is great for use in regular and dietetic recipes
  Pure protein
  Kosher
  No MSG