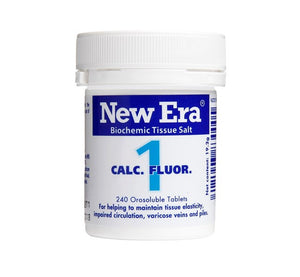 Homoeopathic support for elasticity throughout the body
New Era Tissue Salt No. 1 Calc Flour is essential for healthy circulation and the strength, flexibility and elasticity of connective tissues, joints, bones and muscles.
New Era tissue salts are specially prepared micro-doses of 12 essential minerals important for the optimal functioning and health of the body. If a mineral deficiency or imbalance occurs, common health conditions may result.
The New Era fastmelt tablets dissolve under the tongue to enable faster absorption and optimal utilisation by the body. These are safe for all ages – ideal for infants and those who struggle swallowing tablets. They can be taken alongside other prescription medication and dietary supplements.
Ingredients
Each Tablet Provides:

Calcium Fluoride, Biotin, Lactose
Directions
Adults: 4 tablets 3x daily
Children: 2 tablets 3x daily
Infants: 1 tablet 3 x daily
Acute cases: Take dose every half hour until symptoms subside
Allow tablets to dissolve directly under the tongue
Take 30 minutes away from food or drink
Precautions
Tissue Salts are safe to use for everyone, for long-term use
There are no known reports of adverse effects
As always, if taking medication consult your health professional for individual concerns
Keep all medications out of the reach of children