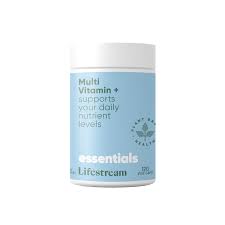 A concentrated blend of bioactive essential nutrients for everyday health.
Are you feeling run down or under the weather? Perhaps you are under mental or physical stress, and feeling fatigued and tired. Taking a multi-vitamin supplement is an easy way to fill in your nutritional gaps that might be contributing to these feelings. They can also be useful if you have a poor or limited diet, or are looking for a supplement that can support bone and joint health, and your nervous system. FKA Advanced Multi. Packed in 100% Sugarcane Plastic packaging - kerbside recyclable.
Our Multi Vitamin+ is an all-natural blend of concentrated, bioactive and essential nutrition sourced completely from wholefood and natural nutrients for maximum absorption.  It includes these amazing nutrients:
Spirulina, a powerhouse of natural proteins, plant pigments, vitamins and minerals. It is the world's richest whole food source of energy-giving nutrients including easily absorbed Iron, Phycocyanin, GLA and pure high quality protein.
Magnesium, essential for optimal body function, used for over 300 biochemical reactions in the body. Magnesium stores can be depleted by mental and physical stress, a highly processed diet, use of tobacco and some medical drugs. Low magnesium limits the body's ability to function at full capacity.
Calcium, one of the most essential and important minerals needed by our body. If we do not consume enough calcium in our diet, our body takes necessary calcium from our bones to use for other essential functions.
Quinoa Sprout, which contains natural, organically bound B vitamins that are bioavailable and ready to be immediately used. A special process ensures that the concentrations found in this natural B complex are more than 100 times higher than those found in quinoa seeds.
Acerola, which provides all natural vitamin C, an important antioxidant; useful for winter ills and chills and supports healthy immune function. Vitamin C is needed for collagen production to promote healthy skin.
Selenium, important for the antioxidant protection of cells, and is necessary for optimal sperm health in men.
This product is vegan. No added dairy, soy, gluten or wheat.
Adults: 2 caps daily
Children 6-12 years: 1 cap daily
Store below 30°C and away from direct sunlight
Do not use if cap seal is missing or broken
Keep out of reach of children