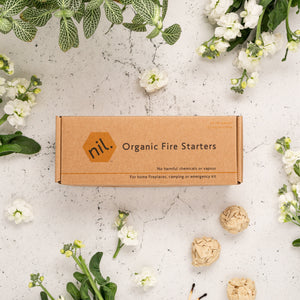 All natural eco friendly fire starters by Nil. A fire starter that burns for 15 minutes or more and is environmentally safe. No harmful chemicals or vapour.  Take them anywhere as they are light as a feather. Great for home fire places, camping trip or your emergency kit.  Makes starting a fire easy!
BURN TIME Our Organic Fire Starters burn for more than 15 minutes per starter.  Quicker than many traditional supermarket fire starters.  
ENVIRONMENTALLY FRIENDLY As there are no harmful chemicals or vapor as they are completely natural.  They are only burning our unbleached cotton, organic beeswax and our other ingredients from our secrete trade recipe.  Besides being non toxic the leftover ash is a natural fertilizer for the earth.
USE THEM ANYWHERE  Great for home fireplaces, camping or your emergency survival kit.  They can be stored indoors or out and even by food.
TAKE THEM ANYWHERE Super light, as light as a feather. So you could take the whole box of 24 fires starters camping and you will not notice the weight in your pack.
SUSTAINABLY MADE  Our whole manufacturing process for our Nil wraps and our Munch Food Wraps is totally sustainable as all the off cuts are made into these Organic Fires Starters. 
ETHICAL OUTWORK MODEL is the way our Nils are made. When you buy a NIL it comes with a story.  You invest in a life of change.  All our NIL products are made by mothers who are often on a benefit and struggle to find work.  We invite you to not just buy something good, but to do something good. Consumerism is faceless.  But a NIL product is real, personal investment in transforming lives.  
24 fire starters in a pack
Each fire starter measures 3.5cm x 3.5cm.  
Comes in a eco friendly cardboard box sized 22cm x 7cm x 8cm
Ethically made in New Zealand