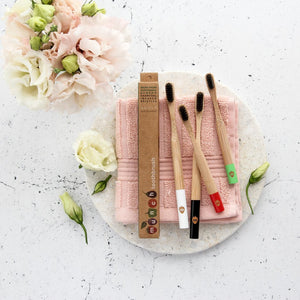 Munch Bamboo Toothbrushes are more than a true sustainable product.  They are also infused with Charcoal which has many health benefits for your teeth and mouth.
SUSTAINABLE BAMBOO Made from sustainable bamboo, our charcoal-infused bamboo toothbrush handle is 100% biodegradable.   Also the painted bottom keeps the handle cleaner for longer.
CHARCOAL INFUSED BRISTLES The toothbrush bristles have been infused with a premium activated charcoal which has been recognised for its antiseptic and detoxifying properties for thousands of years.
NATURAL ANTISEPTIC The charcoal naturally whitens teeth and the antiseptic properties helps keep bacteria at bay in your toothbrush whilst also absorbing and destroying bacteria in the mouth.
DETOXIFYING The detoxifying properties of Charcoal help to eliminate chlorine and other harsh chemicals found in tap water
SLIM BRISTLES The micro slim soft bristles reach deep between the teeth and along the gum line.  Soft bristles are recommended by Dentists.
Comes in green or red. See other listing for red. 1cm x 14cm