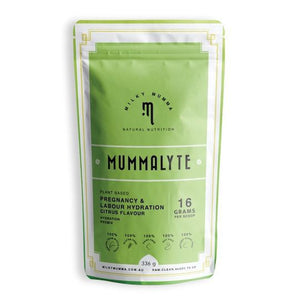 Mummalyte perfectly designed with 100% dehydrated fruits and minerals to support a hard working body. Mummalyte helps restore your electrolytes.
After years of working in the birthing industry, and being a very physical person myself I found personally being well hydrated improves your mental health and increases energy to power through all obstacles,  Also noted that well-hydrated mothers are more likely to increase and maintain the energy needed to have a better pregnancy and birthing experience possible. Good hydration allows nerves to deliver messages properly and efficiently, meaning your muscles can do their job without feeling as fatigued!
THE FACTS
Freeze Dried Ingredients
Flavoured with Real Food Powders
Packed with Trace Minerals and Electrolytes
Gluten, Soy and Dairy Free
Vegan Friendly 

THE BENEFITS
Supports Proper Hydration
Supports Energy Levels
Helps to Reduce Dehydration
Helps to Reduce Muscle Fatigue
RECOMMENDED SERVING SIZE
15g (1/2 scoop) 14 serves in each bag
HOW TO USE
Mummalyte has been designed to slowly drip feed electrolytes and energy sources into the body We recommend adding 15g to 600ml water bottle and sipping on drink throughout the birthing process.
INGREDIENTS
Freeze Dried Orange Juice Powder, Freeze Dried Lemon Juice Powder, Freeze Dried Lime Juice Powder, Himalayan Rock Salt, Schizandra Berry Extract, Pure Stevia Extract
Mummalyte Hydration, nutrition values
All values are considered averages unless otherwise indicated
*based on an average adult diet of 8700KJ
These statements have not been evaluated by the Therapeutic Goods Administration (TGA). This product is not intended to diagnose, treat, cure or prevent any ailment or disease. Please note that the Milky Mamma products are not a meal replacement shake as dieting may cause a low breast milk supply.
Mummalyte Hydration