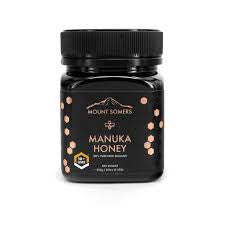 Genuine New Zealand Manuka Honey independently certified UMF 10+.
Mount Somers Honey is proudly sourced from some of the most unpolluted and isolated areas of New Zealand and is GM Free.
Mount Somers Manuka Honey has a uniquely rich complex flavour and a distinctly smooth, creamy, velvety texture.
Methylglyoxal (MGO) – is scientifically proven to be a key natural compound in Manuka honey, however, MGO is not an indication of Manuka Honey quality or purity and should be seen in context combined with the MPI definition and UMF independent quality mark.