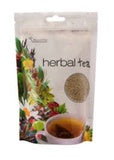 Morlife Chamomile Flowers Tea 200g
Loose leaf 100% dried herb flowers
Description
Chamomile is traditionally used to support relaxation and calming of the digestive system. This herb also helps maintain normal sleep cycles. Chamomile tea is an excellent choice at the end of the day and it is an ideal nightcap.
This product is no longer the whole flowers. It is finer cut.
Ingredients
Chamomile Flowers Tea.
Suggested Use
Steep 1/2 -1 teaspoon of herb in a cup of boiled water for 10-15 minutes. Cool, strain and drink. Take up to four times daily between meals. Add a teaspoon of honey if desired.
Cautions
Not recommended for pregnant or lactating women. May cause allergic reactions in some susceptible individuals. Avoid this herb if allergies to plants of the Asteraceae family (ragweed, aster, and chrysanthemums).