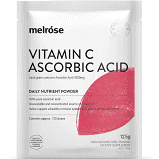 Vitamin C is one of the essential nutrients which must be obtained from food or supplements. It is a water soluble vitamin. It helps reduce the severity and duration of symptoms of the common cold. Vitamin C is an antioxidant, which helps to increase iron absorption from foods.
DIRECTIONS
Directions:Adults: 1 to 3 grams (1000 to 3000mg) daily in a glass of water or juice*. Stir until dissolved. Children (over 2 years): Half adult dose.
*Freshly squeezed orange juice is preferred because of the available bioflavonoids within the pulp.
Warning: Vitamin supplements should not replace a balanced diet. If symptoms persist consult your Healthcare Practitioner. Not to be used for children under two years of age without medical advice. Store below 30°C. After opening, store sealed, protect from heat, light and moisture.