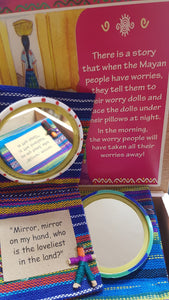 There is a story that when the Mayan people have worries, they tell them to their worry dolls and place the dolls under their pillows at night.
In the morning, the worry people will have taken all their worries away!
These lovely we compact mirror comes with the self-affirming affirmation, 'Mirror, mirror on my hand, who is the loveliest in the land?"
A gorgeous idea for the teen or anyone needing reminding just how fabulous they are!!
approx: 70, 65, 10mm 
Each mirror contains a mini worry doll, mirror and affirmation card
Assorted colours including blues, yellows, pinks, browns and greens. If you have a colour preference let us know through our message us icon or drop it in the notes section of your order and we will do our best to fulfill request xox