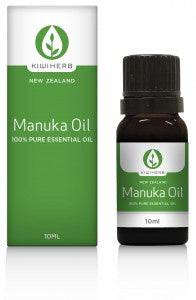 Premium 100% pure essential oil steam distilled from the leaves of New Zealand grown 
Manuka
, also known as New Zealand Tea-Tree. Various parts of Manuka were used traditionally by Maori as topical applications for wounds, cuts, sores and skin diseases, and this traditional use has been validated in recent years with significant antimicrobial & anti-fungal activity being demonstrated for this essential oil.
100% natural
Gentle on the skin
For external use only
Natural Skincare
Natural Anti-bacterial

No artificial preservatives or colours are used in this product.
Always read the label. Use only as directed. If symptoms persist consult your healthcare professional.
Size = 10ml