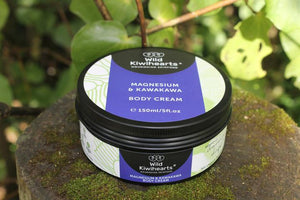 A MAGNESIUM SUPPLEMENT WITH HEMP SEED OIL AND KAWAKAWA.
This is an easily absorbed Magnesium supplement combined with anti inflammatory properties of Kawakawa and other natural soothing oils and butters which soothe muscle tension, aching joints and improves sleep.
Do you suffer from: sore muscles, restless legs, sleeping issues, stress/anxiety, cramp, migraines? These can all be indicators of low magnesium levels.
Getting enough magnesium is essential for maintaining good health but many people get less than they need in their diet.
Wild Kiwihearts Magnesium Kawakawa Body Cream is a highly versatile multi purpose product. It is a:
Natural anti inflammatory
Magnesium supplement
Moisturising Body Cream
Massage cream
The natural anti inflammatory ingredients are: Magnesium, Kawakawa, Wild Unrefined Shea Butter, Organic oils of: Hemp seed, Almond and Coconut. The relief can come within 10 minutes depending on the severity of the issue.
It is useful to soothe cramps, restless legs, headaches, sore muscles, sunburnt skin. It has been known to help people with fibromyalgia and ankylosing spondylitis conditions.
This is a great "GO TO" bedside or handbag cream to soothe uncomfortable moments. Idea for people who live with a lot of constant pain.
Magnesium Supplement: We use 15% magnesium chloride which is absorbed through the skin, which takes it directly to the place where it is needed. This assists things such as relieving muscle tension, sleeping issues, depression, anxiety, PMS and general wellbeing. (Note:  For more severe magnesium deficiencies use in conjunction with other magnesium supplements)
A moisturising body cream that is also a skinfood. We use soothing Aloe Vera and Wild Unrefined Shea Butter which include Omega 3 and 6, anti oxidants and lots more goodness and nourishing properties. This means it can be used as a healthy pleasurable daily or weekly addition to ones life. Some men have found this to be particularly useful for a balding dry scalp and it also soothes sunburn.
An effective massage cream. The many anti inflammatory ingredients soothe  and nurture the muscles being worked on helping relieve soreness. The Kawakawa helps support circulation making it ideal for working on pulled muscles.
Where to put the Cream Anywhere on the body or directly to the area of pain. Applying after a bath or shower when the pores are open is the most beneficial. If tingling occurs this does not last long and is an indication of a magnesium deficiency.
This product isn't intended for the face because the oils don't soak in deeply straight away and it will feel a bit greasy on the face.
Key Organic Ingredients:
Kawakawa - For its anti inflammatory and circulatory properties
Aloe Vera Juice - to soothe, nurture and nourish the skin
Wild Shea Butter - Highly moisturising, nourishing and is anti inflammatory
Coconut Oil - softens skin and has anti inflammatory properties
Hemp Seed Oil - Full of nourishing omega 3 & 6 and is anti inflammatory
Safflower Oil and Almond Seed oil _ To assist viscosity for massage