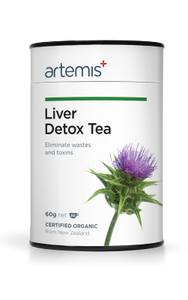 Supports your hardworking liver.
Wake up to Liver Detox Tea every morning. If you can do one thing for your health, do this. Liver Detox Tea supports your liver to work efficiently and effectively. This traditional plant medicine formula builds liver health. It supports normal cholesterol levels, helps with bowel irregularities and sluggishness. Having your liver in good working order is essential for good health.
Take Liver Detox Tea as an everyday ritual for good health and vitality.
Use 1 level tsp (1g) per cup (150ml) and infuse with boiling water for 5-10 minutes. The Liver Detox Tea will taste bitter at first. In fact, the more bitter you find it the more you need it! Persevere because as your liver health improves, so will the taste.
| | | |
| --- | --- | --- |
| Dose: | Acute: 12 weeks | Upkeep: |
| Adults | 1 cup, 3x daily | 1 cup, 1x daily |
| 4-10 years | 50-100ml, 3x daily | 50-100ml, 1x daily |
| 1-4 years | 20-40ml, 3x daily | 20-40ml, 1x daily |
| 6-12 months | 10ml, 3x daily | 10ml, 1x daily |
| Babies | 5ml, 3x daily | 5ml, 1x daily |
For best results: Take your first cup before breakfast. If taking additional cups throughout the day, take these before main meals. Combine with Kidney Cleanse Tea for full detoxification support.
Always read the label and use as directed. If symptoms persist, see your health professional.
Special Instructions: Shake contents before opening. For children, make an adult dose and extract the required mls. Do not microwave. To avoid external contamination close can immediately after use. Keep away from heat and moisture. Store in fridge in hot and humid climates.
Safety:
- No documented herb-drug interactions within the recommended dosage
- Contraindications: over-sensitivity to any ingredients
- Check ingredients for known allergies or over-sensitivity
- Discontinue use if irritation occurs
- No restriction on long term use
- Suitable for pregnant and breastfeeding women
Tea Ingredients:
Filled by weight and contents may settle after filling. 30g = 30 cups. Does not contain sugar, artificial sweeteners, colours, flavours, preservatives, gluten, wheat or dairy. GE Free. Vegan.