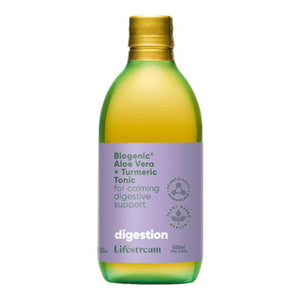 Lifestream Biogenic® Aloe Vera with Turmeric
 combines Aloe Vera sourced from 100% pure inner leaf gel with HydroCurc®, a water dispersible form of Turmeric, to provide an extra strength digestive tonic. The Biogenic® Aloe Vera is organically grown, sustainably sourced and gently processed using the patented NaturLock™ system to lock in and protect the naturally soothing properties of the Aloe Vera plant.
HydroCurc® provides a high level of curcumin, the key active extract from Turmeric, with 85% curcuminoids and uses LipiSperse® technology scientifically researched to increase absorption and bioavailability. The natural flavour combination of Aloe Vera and Turmeric has no added flavours, sweeteners or colours
Aloe Vera (Aloe barbadensis) pure inner leaf 994mg
HydroCurc® - water dispersible curcumin extract from turmeric 6mg (equiv. to 5.1mg curcuminoids)
Also contains: 
citric acid, potassium sorbate and sodium benzoate.
Directions
Adults:
 Take 20ml (2 dessertspoons) 1-3 times daily.
Children: 6-12 years: 
Take 10ml (1 dessertspoon) 1-2 times daily.
Shake bottle well before use as contents may settle. Can be mixed with water or juice. Best taken on an empty stomach. 
Precautions
Refrigerate after opening and use within 90 days.
Store below 30C.
If symptoms persist and for children under 6 years, consult your healthcare professional.
Not recommended during pregnancy, breastfeeding or for children under 2 years.
Turmeric can interact with blood thinning medication.
If taking medication, consult your healthcare professional.