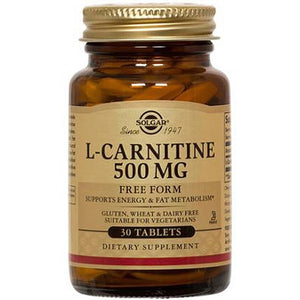 Highlights
Energy

Athletic Performance

Exercise Capacity

Vegan friendly
Solgar L-Carnitine 500mg tablets is one of Solgar premium-quality amino acids. These supplements are aimed at athletes, sports enthusiasts and seniors wishing to continue with their active lifestyle. 
Numerous studies document the benefits of L-Carnitine on energy, athletic performance and exercise capacity. It helps transport fatty acids into mitochondria, the powerhouses of cells,  helping to release energy from fat, and therefore may help with energy levels and weight management. 
In infancy, and in situations of high energy needs the body requirement for L-carnitine can be exceeded, therefore, L-carnitine is considered a conditionally essential nutrient. Free from amino acid.
Each Tablet Provides:

L-Carnitine (Free Form) 500mg

Anti-caking Agenst:
  dicalcium phosphate
  microcrystalline cellulose
Cellulose gum

Glazing Agents:
  microcrystalline cellulose
  vegetable glycerin (made from palm kernel oil and coconut oil)

Colour:
  titanium dioxide

No Added: Gluten, wheat, dairy, soy, yeast, preservatives, sweeteners or artifical flavours.
Directions
Recommended Adult Dosage:

As a food supplement, take 1 tablet daily, with juice or water in between meals, or as directed by a healthcare professional.

DO NOT exceed recommended dosage.
Precautions
Warning:

If you are pregnant, lactating, taking any medications or have a medical condition, please consult your healthcare professional before taking this product.