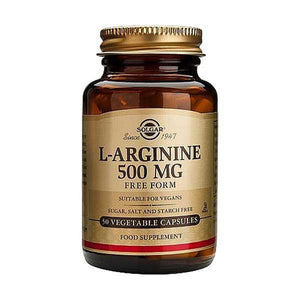 Solgar L-Arginine a free form amino acid in vegetable capsules.   L-Arginine is a semi-essential amino acid that must be obtained through the diet and due to increased growth or low dietary intake the body may need more.
It is known as a precursor for Nitric oxide (NO), which dilates blood vessels therefore supporting healthy circulation and blood vessel relaxation.    L-Arginine has been used to support healthy cardiovascular function, blood pressure management, athletic performance and well as male sexual function.   It is also associated with stimulating the release of growth hormone, insulin, and other substances in the body. 
Each Vegetable Capsule Provides:

L-Arginine (Free Form) 500mg

Also Contains: Vegetable Cellulose, Microcrystalline Cellulose, Vegetable Magnesium Stearate.

No Added: Gluten, Wheat, Dairy, Soy, Yeast, Sugar, Sodium, Artificial Flavour, Sweetener, Preservatives and Colour.
Directions
SUGGESTED USE:

As a dietary supplement for adults, take one (1) to six (6) vegetable capsules daily, between meals, or as directed by a healthcare professional.
Precautions
If you are pregnant, lactating, taking any medication or have a medical condition, please consult your healthcare professional before taking any dietary supplement. Keep out of reach of children. Store in a cool, dry place. Do not use if outer bottle seal is missing, torn or damaged in any way.