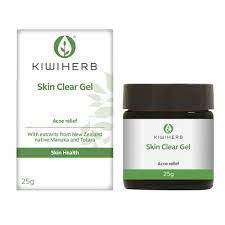 Kiwiherb Skin Clear Gel is used in the prevention and clearing of pimples and other skin blemishes. This product is designed to be used as a spot treatment for blemishes or can be used as an overnight face mask for those particularly prone to acne. 
It is truly 'made of NZ' featuring 100% pure Manuka essential oil and Totarol – a powerful antibacterial and antioxidant. This ingredient, which comes from NZ native Totara trees, has been tested and proven effective in treating acne. 
Manuka essential oil
Totarol
Contains no: Parabens, petrochemicals, artificial colours, fragrances or preservatives.
Directions
Apply as a spot treatment: Apply to the affected area 2-3 times daily.
As a face mask: Apply over the whole face, avoiding eye area. Leave on for a minimum 20 minutes, or overnight. Rinse off with warm water & gently pat dry. 
Precautions
For external use only.
For those prone to hypersensitivity reactions or with sensitive skin, patch test before full application.