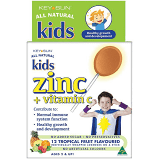 Key Sun Kids Zinc & Vitamin C Lollipops 12 - Tropical Fruit
Kids Zinc + Vitamin C lozenges are a delicious way to supplement a child's daily Zinc and Vitamin C intake.
  They contain 2 essential nutrients:
Zinc is necessary for normal immune system function and contributes to healthy growth and development.
Vitamin C contributes to iron absorption from food and the normal growth and development of children. It also contributes to the normal functioning of the immune system.
Tropical fruit flavoured

Ages 2 and up

No added sugar
Active Ingredients:
Isomalt, Organic Guava Exctract, Acerola Dry Extract, Orange Oil, Natural Colour Annatto E160b.
No added sugar

No added artificial colours and flavour Free from peanuts, tree nuts, eggs, sesame seeds, fish and shellfish, soy and alcohol.
Dosage:
Recommended 1 per day
Warnings:
Excess consumption of foods containing Isomalt may have a laxative effect.

May contain traces of Dairy, Gluten or Wheat.

Not to be used by children under 2 years of age without medical advice.