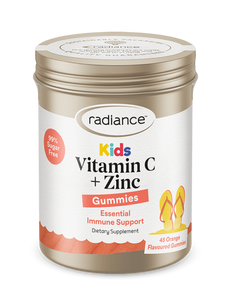 KIDS VITAMIN C + ZINC GUMMIES 45'S
Radiance Kids Vitamin C and Zinc Gummies provide the essential nutrients to give kids a boost when seasonal ills strike. Radiance Kids Vitamin C and Zinc Gummies make it easy to keep kids topped up with the essential antioxidant goodness of vitamin C and zinc to support a healthy immune response. Research shows that supplementing with vitamin C and zinc can help support a heatlhy immune system through the winter months and all year round.

SIZE: 45 Orange Flavoured Gummies.
DIRECTIONS
Take 1 gummie daily for kids from age 2.
INGREDIENTS
Each Gummie contains:
Vitamin C (as ascorbic acid) 150mg
Zinc (as zinc citrate) 3mg
EXCIPIENTS
Maltitol, starch, sodium citrate, natural flavours (raspberry, blackcurrant), citric acid, coconut oil, carnauba wax.
PRECAUTIONS
Excessive consumption may cause a laxative effect. Dietary Supplements can be toxic in high doses. Keep out of reach of children. Close lid tightly. Store in a cool dry place.