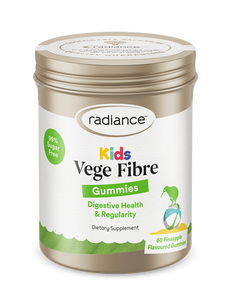 KIDS VEGE FIBRE GUMMIES 60'S
Radiance Kids Vege Fibre Gummies provide a healthy daily dose of fibre to support digestive health and regularity.
Fibre is found naturally in fruits and veges but getting enough of these in to our kids each day can be a challenge. Processed and refined foods are low in dietary fibre and often children miss out on this essential nutrient. Radiance Kids Vege Fibre Gummies are a delicious and convenient way for your kids to top up their daily fibre intake and optimise digestive health, regularity and a balanced appetite.
SIZE: 60 Pineapple Flavoured Gummies.
DIRECTIONS
2 gummies daily for kids from age 2.
INGREDIENTS
Each Gummie contains:
Dietary fibre (inulin) 1.5g
EXCIPIENTS
Maltitol, gelatin, sorbitol, starch, citric acid, sodium citrate, natural flavour, natural colour, coconut oil, carnauba wax, beeswax.
PRECAUTIONS
Excessive consumption may cause a laxative effect. Dietary Supplements can be toxic in high doses. Keep out of reach of children. Close lid tightly. Store in a cool dry place.