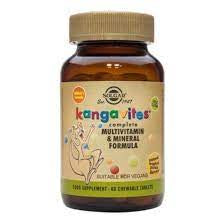 Solgar Kangavites

 are broad-spectrum multivitamin and mineral natural berry flavoured chewable supplement with key nutrients to support growing healthy children.  Including vitamin D and calcium which is needed for normal growth, bone and teeth development in children.  With a wide range of nutrients including iodine which is often lacking children's diet which supports cognitive functioning. Iodine is essential for thyroid hormones and for normal growth and development, particularly the brain. 
Ideal for those picky eaters with a fruit and vegetable base that includes; carrot beetroot, strawberry, apples, broccoli and apricot.  Ideal for children 3 years and up.
Each Chewable Tablet Provides:
Calcium (as carbonate) 64mg
Magnesium (as oxide) 32mg
Vitamin C (as sodium ascorbate) 60mg
Niacin (vitamin B3 as niacinamide) 10mg
Natural source Betacarotene (as prep.) 1.4mg
Providing other carotenoids 3.7ug
Natural source Vitamin E (15iu d-alpha tocopheryl succinate) 10mg
Iron (as ferrous fumerate) 2.5mg
Pantothenic Acid (as Calcium pantothenate) 5mg
Fruit and Vegetable Powders: Bouncing Berry 7mg, Tropical Punch 56mg
(carrot, red beet, strawberry, apple, broccoli, apricot)
Vitamin B6 (as pyridoxine hydrochloride) 1mg
Riboflavin (vitamin B2) 0.85mg
Thiamin (vitamin B1, as thiamine mononitrate) 0.75mg
Vitamin A (500iu, as retinol palmitate prep.) 150ug
Soya Lecithin Powder 2.5mg
Choline (as bitartrate) 500ug
Vitamin D2 (100iu,as D2 prep.) 2.5ug
Folic acid (as prep)100ug
Manganese (as sulphate) 250ug
Citrus Bioflavonoids (as prep) 150ug
Vitamin B12 (as cobalamin prep) 3ug
Selenium (as selenomethionine) 2.5ug
Iodine (as potassium iodide prep.) 22.5ug
Rosehips Powdered Extract (4:1) 500ug
Chromium (as amino acid chelate) 5ug
Also contains:

 Sucrose, mannitol, microcrystalline cellulose, xylitol, fructose, natural flavourings (including mixed berry, tropical and orange), anthocyanins (from grapeskins), silicon dioxide, vegetable stearic acid, vegetable magnesium stearate, carageenans, citric acid, malic acid, cellulose gum, xanthum gum, potassium chloride.