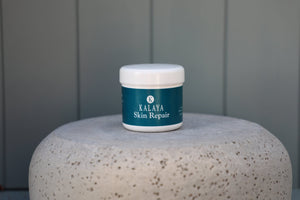 This emu oil rich cream is designed to promote rapid cell repair, appealing to those suffering from eczema and psoriasis.
Suitable for chaffing and dry skin it is very plain cream with a high percentage of emu oil.  This Skin repair cream has a large following of grateful customers.
Kalaya Skin Repair | Emu Oil, Water, Alcohol, E Wax, Beeswax, Calendula Oil, GrapeFruit Seed Extract.