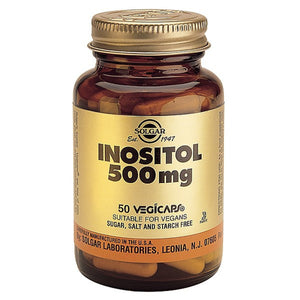 Highlights
Protective liver and gall bladder support
Solgar Inositol capsules provide 500mg of Inositol related to the B family of vitamins. It is a primary component of cellular membranes and plays important roles in healthy cell growth and function. Inositol has the highest concentrations in the brain and central nervous system; playing an important role in a healthy nervous system.  Especially with the transmission of nerve impulses, manufacture of neurotransmitters, supporting healthy mental functioning and emotional health.  Inositol is also important for healthy skin and hair, critical for the proper action of insulin, lipid metabolism; helping prevent accumulation of fat and cholesterol in the liver. 
Also contains:

 Hydroxypropylmethyl cellulose, vegetable magnesium stearate, vegetable stearic acid, silicon dioxide.
Directions
As a food supplement for adults, take one (1) to 3 (three) vegetable capsules daily, preferably at mealtime, or as directed by a healthcare professional.
Precautions
If taking anxtiolytic or tranquilising drugs, high-dose inositol should only be used under medical supervision.
Always read the label and use as directed. Vitamins are supplementary to a balanced diet. If symptoms persist consult your healthcare professional.