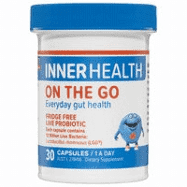 Ethical Nutrients Inner Health On The Go is a fridge free live probiotic.
PROTECTAIR is a triple action moisture defence system only available to Inner Health. It protects the live probiotic bacteria so they remain alive and at full strength for maximum effectiveness.
Therapeutic Applications:
Supports a healthy balance of good gut bacteria
Helps maintain general health and wellbeing
Supports a healthy gastrointestinal system
Take daily to help maintain general gut health
Each capsule contains:
12 billion live Lactobacillus Rhamnosus bacteria
No added artificial flavouring, colouring or preservatives.
Free from gluten, wheat, dairy, lactose, nuts and eggs.
Directions
 Adults & children over 12 years: Take one capsule daily or as directed by a  healthcare professional.
This product is shelf-stable - This product does not require refrigeration – read about our Heat Sensitive Product Policy here.
Precautions
If symptoms persist consult your healthcare professional.
Do not use if cap and/or bottle seals are missing or broken.