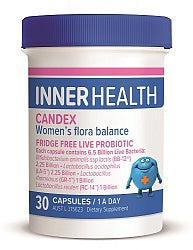 Inner Health Candex Capsules 30
Inner Health Candex may:
Support healthy urogenital and vaginal flora
Maintain urinary tract and vaginal health
Maintain a healthy balance of bacteria and yeast with probiotics native to the female urogenital tract
Active Ingredients:
Each capsule contains 6.5 Billion Live Bacteria: Bifidobacterium animalis ssp lactis (BB-12®) 2.25 Billion Lactobacillus acidophilus (LA-5) 2.25 Billion Lactobacillus rhamnosus (GR-1) 1 Billion Lactobacillus reuteri (RC-14) 1 Billion
Dosage:
Women: Take 1 capsule daily, or as directed by a healthcare professional
Warnings:
If symptoms persist consult your healthcare professional. Do not use if cap and/or bottle seals are missing or broken. No added artificial flavouring, colouring or preservatives.