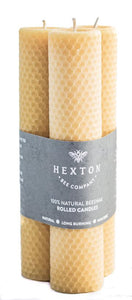 Create ambiance in your home with a warm amber glow from our Beeswax Taper Candle set of three (35x210mm). These taper candles burn for 10 hours.
Our beeswax candles contain no artificial scents or colours but are beautiful just as they are, with a soft honey fragrance.
Handmade in Gisborne, NZ.