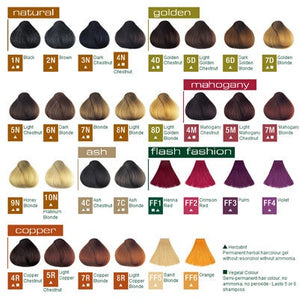 The Original Ammonia Free Hair Colour
Antica Erboristeria S.p.A was founded in 1960 by Michel Albergo as a manufacturer of hair care products.  Antica specializes in permanent hair dyes formulated without Ammonia and based on vegetal extracts which are currently manufactured in Rome.
Antica Erboristerias world-renowned product line was a unique and brilliant conception by its founder.  In the 1960s the hair care industry was dominated by big chemical multinational companies.  Mr Albergo was a pioneer who had the idea to formulate a hair dye mostly based on natural ingredients.  He found a way of protecting the hair structure by reducing chemical ingredients and utilising the natural synergy offered by some vegetal extracts.
The young Mr Albergo received great help in his quest thanks to his apprenticeship with a famous Swiss herbalist.  The Swiss master appreciated Mr Albergos passion for plants and nature and assisted him in the formulation of the herb-based hair dyes.  After the death of the Swiss herbalist Mr Albergo inherited the vast knowledge and formulas research compiled during his many years of research.
That was the beginning of the lengthy, laborious process which lead Mr Albergo to formulate the most natural alternative to conventional hair dye.  By the end of the 1960s Mr Albergor had a industrial formula for the manufacturer of a permanent hair dye based on vegetal extracts, containing no Ammonia and an extremely low hydrogen peroxide content.  This extraordinary formula is able to assure the perfect coverage of grey hair from the very first application without damaging the hair structure and yet providing extremely natural looking results.
Herbatint has been the undisputed market leader for more than 40 years.  It has gained a deserving popularity and is now sold in 38 countries around the world.
The Herbatint product line excels in quality and consumer safety.  Such a result is achieved by a meticulous routine quality control of the raw materials (vegetal extracts), high manufacturing standards and state of the art microbiological and toxicological analysis of the end product.
Herbatint is not tested on animals, is certified by PETA
Herbatint hair colours are registered with the UK Vegan Society.
It adheres to FSC standards and ingredients are Gluten Free.