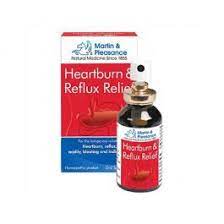 Martin & Pleasance Heartburn & Reflux Relief is a homoeopathic medicine prepared by traditional methods for the temporary relief of symptoms associated with:
Acidity

Heartburn

Reflux

Indigestion

Wind

Bloating
Martin & Pleasance oral Homoeopathic Complex sprays are a lactose free homoeopathic formulation, prepared by traditional methods and created with the inclusion of Schuessler Tissue Salts. Homoeopathic formulations stimulate the body's own ability to assist in restoring natural equilibrium and health.
Keywords: 

Heartburn & stomach cramps, Distress from simple food, Regurgitation of food, Flatulent indigestion, Flatulent colic with belching & gas, Excess of latic acid, Intestinal disorders, Indigestion from fatty or rich food,
Contains Equal Amounts Of:
Natrium Phosphoricum 6X
Carbo Vegetabilis 12C
Strychnos Nux Vomica 12C
Kalium Muriaticum 6X
Argentum Nitricum 12C
Robina Pseudoacacia 6X
Antimonium Crudum 6C
Directions
Ongoing symptoms: 1 dose e

very half hour until condition improves, up to 4 doses, then continue a maintenance dose of 1 dose 4 times per day (max 8 doses per day).
Maintenance dose: 1 dose 

4 times daily.
Adults: 

1 dose is

 
4 sprays
Children 2-12 years: 

1 dose is 
2 sprays
For best results take 10 minutes away from food or as professionally prescribed.