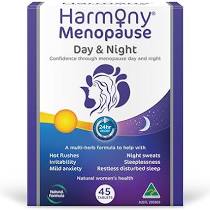 Harmony Menopause Day & Night is traditionally used in traditional Chinese Practice for support during menopause.  A unique product that includes Day tablets to support comfort throughout your day and a specially designed Night tablet that supports a restful sleep.
Rehmannia glutinosa root 1.2g
Vitex agnus-castus fruit (Chaste Tree) 100mg
Angelica polymorpha root (Dong Quai) 200mg
Dioscorea oppositifolia root and rhizome (Chinese Yam) 200mg
Paeonia lactiflora root (Peony) 200mg
Bupleurum falcatum root 200mg
Also including naturally derived excipients:
Calcium hydrogen phosphate dihydrate 350mg (equiv calcium 81.6mg)
Calcium amino acid chelate 50mg (equiv calcium 10mg)
Magnesium amino acid chelate 50mg (equiv magnesium 10mg)
Cholecalciferol 2.5mcg (Vitamin D3 100IU)
Rehmannia glutinosa root 7.6g
Ziziphus jujuba seed 10g
Naturally derived excipients:
Microcrystalline cellulose, croscarmellose sodium, colloidal anhydrous silica, magnesium stearate, carnauba wax, tablet coating-proprietary ingredient (Day tablet PI 4856, Night tablet PI 111403). Night tablet also contains calcium hydrogen phosphate dihydrate.
Directions
Adults: 
Take 2 DAY tablets in the morning. Take 1 NIGHT tablet in the evening or as directed by your Healthcare Practitioner.
Tablets can be taken with water or juice, before meals or one hour after meals.
Store below 30°C.
Precautions
It is always suggested to consult your healthcare professional before use of this product or if symptoms persist. 

Vitamin supplements should not replace a balanced diet.

Discontinue use if you develop sensitivity to the formula.

Night tablet is intended to make you drowsy, precaution to be taken when driving after taking the night tablet.

Do not sue if blister seal is broken. Keep out of reach of children.