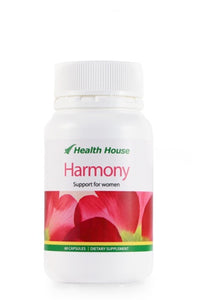 A translation of the name of the ancient Indian herb Shatavari is 'she who possesses a hundred husbands.' and another is the 'queen of herbs.' This special herb is found in our new product especially for woman, called Harmony.
There are certain times in a woman's life when she needs extra support. We have specially designed Harmony by combining shatavari with maca extract, boron and vitamin D to give support during these special times.
This herbal and mineral combination supports hormonal balance making it an excellent supplement during menopause. Shatavari specifically helps avoid temperature imbalance. In a study more than 80% of participants reported positive effects including support for better sleep and normal temperature.
Boron is an especially important mineral during this time, being an all natural alternative to support hormone balance. Many people are looking for natural support as an alternative to conventional medicines.
Not only is Harmony good for support during menopause, it also helps promote libido and supports optimal sexual desire, making it an excellent supplement when trying to conceive. It balances the pH levels in the vagina and assists with lubrication of the membrane lining, along with promoting libido.
Both boron and vitamin D are important for fetus development and healthier babies. During pregnancy Shatavari prepares the mother's body for production of breast milk and after childbirth maintains normal quality and quantity of breast milk. After childbirth and also during menopause, sadness can be a common occurrence. Both maca and vitamin D help with emotional well being and reduced worry.