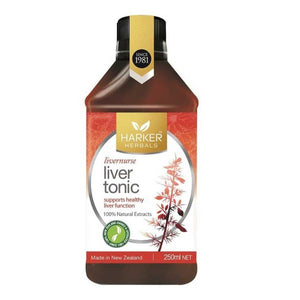 Harker Herbals Liver Tonic supports healthy liver, gallbladder and digestive function.  A healthy liver is vital to detoxify and protect the body from fatty foods, alcohol and pollution.  This blend of more than 20 plant-based ingredients is formulated to nourish the liver and support cleansing of the liver and digestive organs.
Highlights
Support healthy liver function
Supports cleansing the liver of toxin build up
Liquid formula for fast absorption
Vegan friendly
Directions
Adults take 5-10ml three to four times daily, pre-meals.
Baby: 1/4 dose.

Nausea may occur as the liver dumps its toxins into bloodstream. Treat with rest, peppermint teas, fresh air and water. Abstinence from the elixir for 1 to 2 days will ease this natural purgatory feeling. Nausea in treatment will subside.
Precautions
Not to be taken while pregnant or breastfeeding.
These tonics may affect absorption of antibiotics. It is recommended that the dose of tonic is taken at least 2 hours after antibiotics have been taken.
These tonics may affect blood clotting and blood sugar control. It is recommended that these tonics are not taken within 2 weeks of any surgical procedure.
Due to small amounts of iodine being present in all tonics, we recommend all tonics are contraindicated for hyperthyroidism (with or without prescribed medication) or any thyroid replacement medication (such as thyroxine).