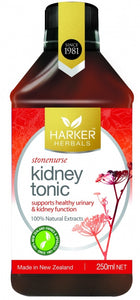 Formula 1009 Kidney Tonic
Harker Herbals Kidney Tonic is a cleansing and naturally antiseptic herbal tonic to support healthy kidney function and fluid balance. This plant-based blend is formulated to help cleanse harmful wastes and urinary irritants from the body. Rich in hydrangea, which supports clarification of the tubules in the kidney. This tonic also supports repair of tissues.
The Hydrangea is a flowering plant common throughout New Zealand gardens and is one of the main ingredients of this syrup. The root of the hydrangea supports a healthy urinary system. Together with soothing marshmallow, which aids digestion and horsetail which provides organic silica for tissue repair, Stonenurse works to support kidney health.

Highlights:
Supports healthy urinary and kidney function
Formulated to cleanse harmful wastes and urinary irritants
Liquid formula for fast absorption
Vegan-friendly
Shake bottle vigorously prior to each dose. To accustom to product take a ¼ to ½ dose for the first 2 or 3 days. If taking prescribed medication, consult with your Doctor prior to using Harker Herbal tonics. Avoid coffee or tea for ¼ hour before and after dose.
Do not exceed stated dose. Keep out of reach of children.
Not to be taken while pregnant or breastfeeding. If taking prescribed medication, we recommend seeking professional medical advice before taking our products. Always read the label and use only as directed.
Oils & Ethers
Herbs
Seaweeds
Sundries