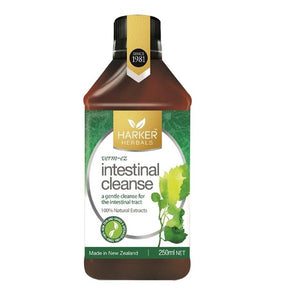 Harker Herbals Intestinal Cleanse An important tonic in the Malcolm Harker range, Intestinal Cleanse is a gentle cleanse for the digestive tract to support healthy digestion, increased energy levels and discourage parasites, helping essential minerals and nutrients from foods to be absorbed into the bloodstream.  Harkers Herbals recommends taking Intestinal Cleanse four times a year for 7-14 days. Intestinal cleanse may also support microbial balance in the digestive tract.
Highlights
Gently cleanses the digestive tract
Discourages parasites in the intestinal tract
Supports healthy digestion 
May support microbial balance in the intestinal tract
Improves feelings of wellbeing & restores energy
Liquid formula for fast absorption
Active Ingredients:
Wormwood
Green Walnut Leaf
Clove oil
Thymol
Herbs:
Carrageen
Cayenne
Ginger
Licorice
Pure Essential Oils:
D'Limonene
Jojoba
Lemon
Lime
Orange
Plus: Celtic Sea Salt, Citric Acid, Organic Iodine, Vegetable Glycerine.
No added sugar.
Directions
Shake vigorously before use. Swill for 10 secs before swallowing, if possible.
Adults (12 years and over):Take 10 - 20mls, 3 - 4x daily
Children (2-12 years):Take 5mls, 3 - 4x daily
Infants (1-2 years):Take 2.5mls, 2 - 3x daily
Introductory Dosage: Take ¼ to ½ recommended dose for the first 2 - 3 days.
Can be taken long term.
Suitable for all the family.
Precautions
Do not use during pregnancy.

 Short term use only  up to 6 weeks at a time. Caution if using Loop diuretic, Thiazide Diuretic or Warfarin medication. Consult your natural health practitioner if using these medications.
These tonics may affect absorption of antibiotics. It is recommended that the dose of tonic is taken at least 2 hours after antibiotics have been taken.
These tonics may affect blood clotting and blood sugar control. It is recommended that these tonics are not taken within 2 weeks of any surgical procedure.
Due to small amounts of iodine being present in all tonics, we recommend all tonics are contraindicated for hyperthyroidism (with or without prescribed medication) or any thyroid replacement medication (such as thyroxine).