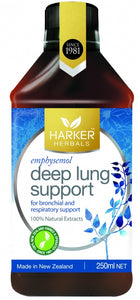 Deep Lung Support is our most powerful respiratory tonic designed to aid removal of mucus build up in the lungs and support healthy breathing. This trusted elixir is our most popular herbal tonic.
Recommended for:
Clogged or heavy lungs and airways
Support for healthy breathing
Supported lung health
Smoker's congestion
Those living in areas of high air pollution
Recovery from ills and chills
Boosting the immune system

Active Ingredients:
Elecampane
Horehound
Juniper Oil
Menthol

Herbs:
Irish Moss
Cayenne Pepper
Coltsfoot
Ginger Root
Kumerahou
Licorice
Pleurisy Root
Lobelia Inflata (<10ppm)

Pure Essential Oils:
Cedarwood
Eucalyptus
Clove
Jojoba
Lemon
Peppermint
Pine
Rosemary

Plus:Celtic Sea salt, citric acid, organic iodine, vegetable glycerine. 

Contains no yeast, gluten, wheat, dairy products, artificial colours or sweeteners.

No added sugar.

Directions

Shake vigorously before use. Swill for 10 seconds before swallowing.

Adults: 10-20mls, 3 to 4 times daily.
Children:  5mls, 3-4x daily
Infant: 2.5mls, 2-3x daily

Store in cool, dry conditions until opened. Refrigerate after opening and use within 90 days.

Precautions

Not to be taken while pregnant or breastfeeding.
These tonics may affect absorption of antibiotics. It is recommended that the dose of tonic is taken at least 2 hours after antibiotics have been taken.
These tonics may affect blood clotting and blood sugar control. It is recommended that these tonics are not taken within 2 weeks of any surgical procedure.
Due to small amounts of iodine being present in all tonics, we recommend all tonics are contraindicated for hyperthyroidism (with or without prescribed medication) or any thyroid replacement medication (such as thyroxine).