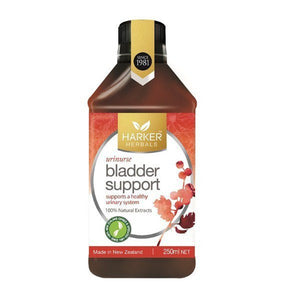 Harker Herbals Bladder Support is a cleansing and naturally antiseptic herbal tonic to support healthy bladder function. This tonic blends more than 20 plant-based ingredients to support healthy fluid balance and cool, cleanse and revitalize tissues under stress. Naturally antiseptic and cleansing for a healthy urinary tract.
Blackberry, Motherwort.
Herbs:
Carrageen, Cayenne, Ginger, Gorse, Kelp, Kumarahou, Licorice, Manuka, Marshmallow.
Pure Essential Oils:
Aniseed, Cedarwood, Clary sage, Clove, Fennel, Frankincense, Jojoba, Juniper berry, Patchouli. 
Plus:
Celtic sea salt, Citric acid, Organic iodine, Vegetable glycerine.
Directions
Shake vigorously before use.
Adults:5-10mls, 3-4x daily. 
Child:Half the adult dose. 
Baby:(over 1 year) One quarter of the adult dose.
Swill for 10 secs before swallowing.
Precautions
Do not use during pregnancy.
Caution if using Loop diuretic, Thiazide Diuretic or Warfarin medication.
Consult your natural health practitioner if using these medications.